In my world, candles fall into the same obsessive category as beauty products. Maybe it's because I want my house to smell like Anthropologie or maybe it's because a great holiday candle makes it truly seem like Christmas. Either way, I love me a great smelling candle.
I have a few favorite candles but since Thanksgiving is only 8 days away, I thought it would be timely to share my three favorite holiday candles! Here they are, in no particular order. 🙂
Yankee Candle in Mistletoe
This candle smells exactly like Christmas when we start to unpack the decorations and put up the tree. You detect hints of ornaments right out of the box, freshly cut Christmas trees, cider, dust and even snowy air. All of it. It's wonderful. Definitely not a candle I start burning before Thanksgiving though.
Bath and Body Works 3-wick candle in Winter
This candle is fresh, sweet, pine-scented and snowy. It's a great one to have burning on cold days and doesn't scream of Christmas nearly as much as Mistletoe (above).
Anthropologie Hobnail candle in Frosted Pine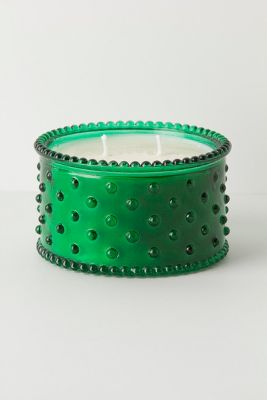 The priciest of my three picks but the prettiest, this is a great splurge candle. I usually buy one or two each year as "gifts" then just give them to myself. The jar is beautiful and the scent is divine. Even though the Frosted Pine is my favorite, the Hobnail candle also comes in a Pomegranate and Applespice that are very good, but a little sweet for me.
What are your go-to scented candles? What is burning at your house right now? Leave it in the comments, I'd love to know!